Past Performances
Saturday Oct 29th At the Hughes House
A great show lined up for Sat ,Oct 29th. It's the usual fun with pot luck food and byob vino to start the evening. Come around 7 - tunes just after 8pm. Cost is $20 for a fine trio of players.

Kim Beggs www.kimbeggs.com/
Corin Raymond
Jonathan Byrd
---
Saturday, May 28th, 2011 - Jory Kinjo Concert Night
More tunes coming up at the old house. Saturday, May 28th we have Jory Kinjo and some friends coming to play some fun high-energy reggae, ska and funk music. Bring dancing shoes and libations for lubrication.The usual pot-luck starts about 7pm
and tunes after 8:30. Suggested donation $20;all of which goes to the artists.
http://www.myspace.com/kinjobrothers
http://www.youtube.com/watch?v=VwuVESCiTOo
---
Saturday, April 16th 2011 - Art and Jazz Night
Jazz Winds return to play at the old house. They've had two sell out shows here and this time should be even better. They promise an evening of great tunes with lots of familiar standards to groove with. Jazz Winds is a group of jazz musicians and composers who come from a variety of backgrounds with a vision to experiment with jazz and classical music styles. They have a great mix of accessible music with a wide appeal. Jazz Winds sounds range from light textured jazz with a classical music feel to high energy swing jazz.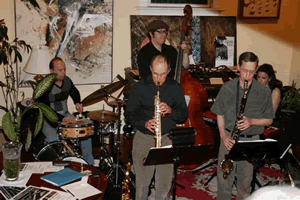 http://www.jazzwinds.com/
Also displaying there work will be Josie and Georgie...
Georgie Stone Exhibition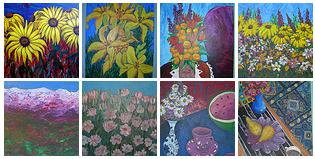 http://www.flickr.com/photos/georgie_stone/
---
Saturday, February 12th, 2011 - Kaley Kinjo with a friend or two will be playing.Kaley is a very busy and sought after musician, playing with The Plaid Tongued Devils since 2004, touring western Canada and parts of Europe with them, sharing the stage with such acts as Lisa Brokop, Stabilo, Jim Cuddy, Sarah Harmer, 54-40, Trooper, Faber Drive, Patricia Conroy, The Sadies, The Great Lake Swimmers, Rachelle Van Zanten, TOFU and Bettie Serveert. As well, in the past five years, Kaley has performed or recorded with over 3 dozen different acts and artists.
If you want to join the gang for food and vino we'll be starting about 7pm. Bring a dish of your liking and whatever you like to drink.Hang out and meet some new folks or catch up with friends. Tunes start sometime after 8pm so try to get in before hand.Cost is $15 and all proceeds go to the artists.Check out the links below to see some of his stuff and even have a look at some past shows at the old house.Thank-you for supporting indy artists.

http://www.kaleykinjo.com/
http://www.myspace.com/kinjobrothers
---
Friday, January 28th 2011 - Two fine Alberta songwriters, Calgary's Scott MacLeod and Edmonton's Carrie Day, will be trading songs and telling stories in the quiet and intimate setting of Hughes' House in Calgary. Show starts at 8:00 pm and all ages welcome. Bring your own snacks and beverages. $12 at the door.

http://www.myspace.com/carriedaymusic
http://www.scottmacleod.ca/
---
Musicians Previously at Hughes House:
(click on their name to visit their website)
Ann Vriend
Edmonton, AB

Farideh
Saskatoon, SK
Annie Lou
Whitehorse, YK
Jazzwinds Quinte
Calgary, AB
Billy Manzik
ON
Mark Ceaser
Saskatoon, SK
Carrie Day
Edmonton, AB
Martin Kerr
Edmonton, AB
Dion Blyan
Calgary, AB
Stephen Maguire
Belfast, IE
F&M The Band
Edmonton, AB